The Contemporary Clinic: A Panel Discussion
Title:
The Contemporary Clinic: A Panel Discussion- Multiple Perspectives on Challenges, Ideas and Solutions
Presenters:
Susan Hollander, LCSW-R
David Katzenstein, DSW, LCSW-R
Rivka Warga, LMSW
David Herskowitz, LMSW
Program Schedule:
7PM-8:30PM- Presentations
8:30PM-10PM- Panel and Q & A Forum
Abstract:
The presentation, given by two clinic directors and two early professional clinicians will explore the inherent anxiety familiar to early professionals in the field of mental health, and particularly in a clinic or community mental health center setting. Presenters will focus on the challenges many early professionals are faced with. They will emphasize the importance of appropriate clinical supervision, training, as well as the need for one's own therapy as integral elements of evolving into a competent mental health clinician. In addition, presenters will look at some of the existential questions that many early professionals struggle with internally as they enter into a career with many so many different paths to choose from. There will be a significant discussion centering on self-care, peer support, and how a clinician can develop healthy patterns of behavior in one's personal life as he/she addresses unhealthy patterns in clients' lives. And importantly, practical tools and skills will be taught throughout the presentation to help foster success in the early career stages. The aim is for clinic directors and early professional clinicians to come together and try to work out some of the challenges clinics face in the current environment. Finally, there will be a moderated panel with all 4 presenters to engage in a Q & A format to foster discussion between clinic directors and clinicians.
Educational objectives:
At the conclusion of the presentation/panel attendees will be able to:
Identify multiple pathways to growth as a social worker in the field of mental health
Learn 3 strategies to balance self-care and personal needs with professional responsibilities
Classify areas of awareness regarding the interconnection between professional and personal selves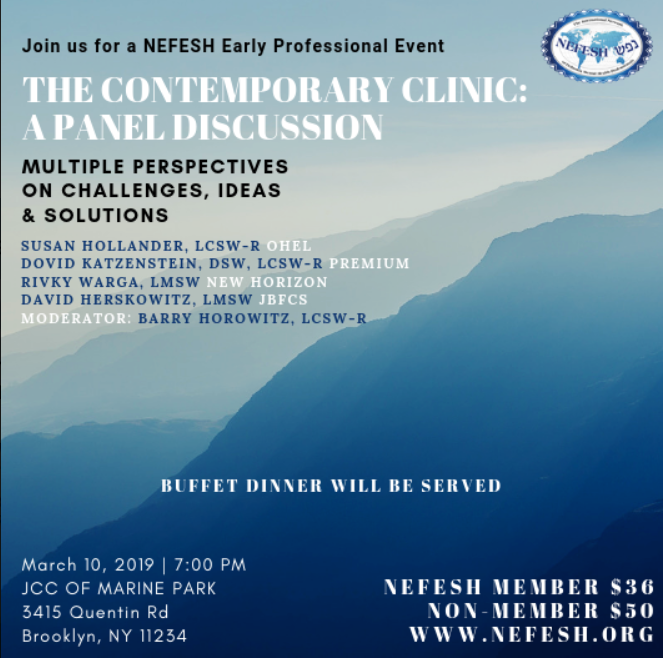 Registration complete!
Please check your email for confirmation.
You have already registered for this event. You can update your selections for the event here:
This form is invalid or registration has closed
Selections have been updated successfully
This form is disabled temporarily for maintenance. Please come back later.